imperial rhino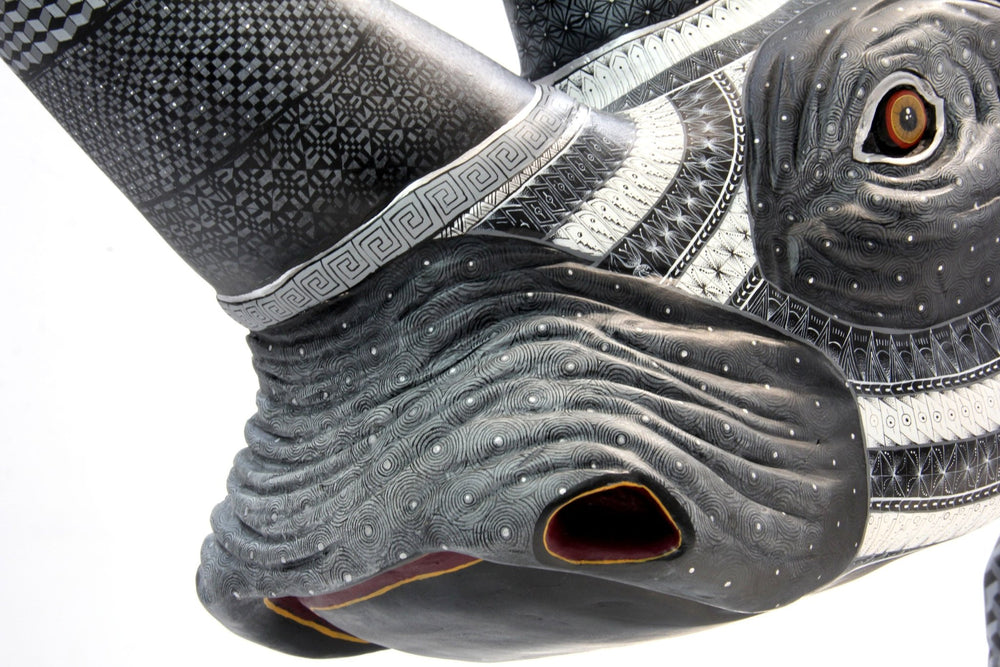 The contemporary production of alebrijes in the community of San Martín Tilcajete, Oaxaca, offers a wide range of fantastic animals, formed with features and characteristics of various creatures in a single body. However, from time to time, they manifest themselves in their animal works that we know in reality, equally surprising even if they do not come from the imaginary world.
Smaller than a live, mature specimen, the imperial rhino It imposes with its presence, more for its depth than for its size. The charge that he is capable of is symbolic. He is protector of the tradition that has decorated his skin with the signs of the house (protection), the rattle (serpent, power), the temple (worship), ants (contribution), labyrinths (the city of Yagul), snails (union ), fish (respect), the sun (hope), people (community) and butterflies (harmony).
Its elaboration has required 3 years and many hands to complete all the tasks that result in this piece of great quality and character. The wood comes from collaborative interactions between Oaxacan communities that make the production of these works sustainable due to the forest management they carry out in their territories. In more ways than one, the Imperial Rhino conveys the awareness of the Zapotec culture about itself, while presenting us with a responsible environmental message. It is about nature that we love and protect.
In ancient times to Rhino he was related to him monoceront (Greek voice with which the Unicorn) and even today fantastic and curative properties are claimed for its horns, which has led to its excessive hunting and the extinction of some varieties, such as the black rhinoceros.
El imperial rhino it is a monument to the presence and memory of these fascinating creatures that have not ceased to be a bridge between the fantastic and the natural. With this piece, Marakame continues to commission and collaborate with the best Oaxacan alebrije workshops, celebrating and promoting the creativity of artists in our country.


Data sheet:
Imperial Rhinoceros (unique piece)
Hand painted cedar wood
90 x 240 x 56 cm. / 35.5 x 94.5 x 22in.
Carving time: 3 months.
Drying time: 2 years.
Painting time: 09 months.
It is delivered with a certificate of authenticity
It is currently part of the Marakame Art collection, being available for sale. If you are interested in your purchase, contact us.