Belts - World Boxing Council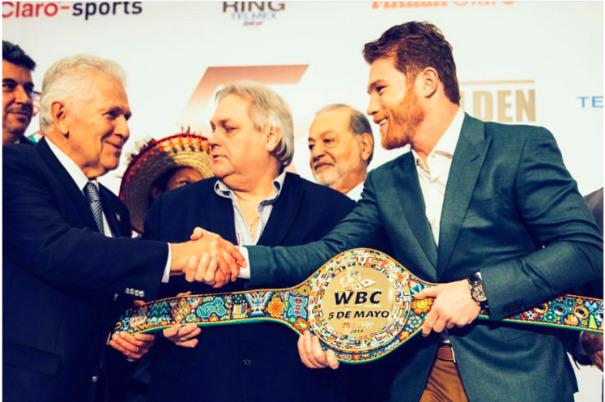 On May 6, 2017, for the fight between Saúl Canelo Álvarez and Julio César Chávez Jr., a belt intervened by the artist Wixárika Luis de la Cruz was delivered in Las Vegas by the WBC after more than 350 hours of work and 40,000 micro beads glued one by one. This was the first belt intervened with Mexican art commissioned by the World Boxing Council.
September 15, 2017: On Saturday night, the Kazakh boxer Gennady Golovkin received the 'Adolfo López Mateos' huichol belt from September 15 that the World Boxing Council arranged for the event this weekend against Canelo Álvarez.
Mauricio Sulaimán handed over the belt with thousands of crystal micro chaquiras embedded in the Ferrari leather belt to the Kazakh, as he kept the body's Medium championship after the draw against Canelo Álvarez in the city of the game.
Gennady, who went to the conference first and then went to a private dinner with his family, posed with the Huichol belt for which he had shown great interest even since last May, when he saw the belt that the green and gold body arranged for the confrontation Between Canelo and Julio César Chávez Jr.
Arte Marakame, as a promoter of Huichol Art, Oaxacan Alebrije and Mata Ortiz Ceramics, was able to create more medium-sized belts for the same World Boxing Council.
https://www.forbes.com.mx/asi-cinturon-huichol-pelearan-canelo-julio-cesar-chavez-jr/